UP TO 9 TONS ON THE FRONT OF THE VEHICLE
UP TO 9 TONS ON THE FRONT OF THE VEHICLE
Powerful engines with large transportation capacity able to guarantee highly reduced cycle times, Astra vehicles are the ideal solution for transporting marble, thanks also to their high level of customisation.
ROBUSTNESS
820 mm wide, unique heavy duty chassis Two straight and parallel side members in highly resistant (up to 202 kNm) special steel with a tensile strength of 530 Mpa with large sections: 4-axle HD9 320x90x10 mm to ensure a high level of torsional stiffness and high stability even in the most extreme situations
Able to support heavy loads of up to 9 tons thanks to reinforced front drive axles and axles for the most arduous off-road use (routes with slopes or heavy loads concentrated on the front of the vehicle). Closed ring structure of the rear suspension ("power ring"), made up of cast iron carriage shoulders and a lower cross member (Astra patented).
Loads up to 16 tons for rear axle with semi-elliptical reinforced suspension, 10 x 25 mm leaf springs.
Ceramic single-disc clutch for manual gearbox, recommended for heavy applications in order to protect components from wear due to the heat generated.

Maximum load on rear tandem of up to 40 tons and GVW up to of 50 tons.
PERFORMANCE
Cursor engines
13 litre
Euro III, from 380 to 420 hp (WG) and from 440 to 540 hp (VGT)
Euro V, from 410 hp (WG) and from 440 to 560 hp (VGT)
Euro VI, from 450 (WG) and from 500 to 560 (eVGT)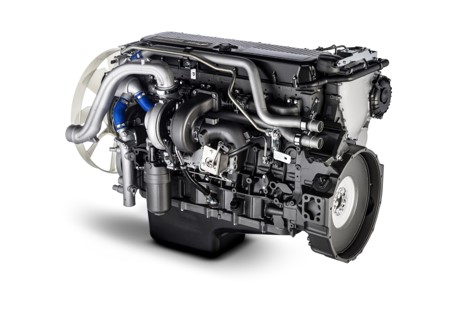 Engine brake power 630 hp (463 kW) @ 1900 rpm +50%* braking power compared to previous versions, thanks to the Iveco Super Engine Brake (SEB) on Euro VI engines.
CUSTOMISATION
Hydraulic retarders integrated in the gearbox:
INTARDER, installed on the gearbox output shaft
RETARDER, installed on the input shaft
Rear axle lifting, to focus traction on the third axle to provide greater adherence to the ground on uphill routes with no load.
Availability of different types of high-performance transfer boxes for vehicles travelling with rear-wheel drive and which, when the mission requires, can also engage front-wheel drive.